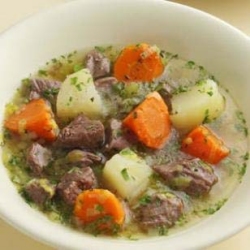 Ingredients
2 pounds boneless leg of lamb, trimmed and cut into 1-inch pieces
1 3/4 pounds white potatoes, peeled and cut into 1-inch pieces
3 large leeks, white part only, halved, washed (see Tip) and thinly sliced
3 large carrots, peeled and cut into 1-inch pieces
3 stalks celery, thinly sliced
1 14-ounce can reduced-sodium chicken broth
2 teaspoons chopped fresh thyme
1 teaspoon salt
1 teaspoon freshly ground pepper
1/4 cup packed fresh parsley leaves, chopped
Preparation
Combine lamb, potatoes, leeks, carrots, celery, broth, thyme, salt and pepper in a 6-quart slow cooker; stir to combine. Put the lid on and cook on low until the lamb is fork-tender, about 8 hours. Stir in parsley before serving.
Tips & Notes
Make Ahead Tip: Cover and refrigerate for up to 2 days or freeze for up to 1 month. | Equipment: 6-quart slow cooker
Tip: To clean leeks, trim and discard green tops and white roots. Split leeks lengthwise and place in plenty of water. Swish the leeks in the water to release any sand or soil. Drain. Repeat until no grit remains.
Nutrition
Per serving: 266 calories; 7 g fat (2 g sat, 3 g mono); 65 mg cholesterol; 27 g carbohydrates; 0 g added sugars; 23 g protein; 4 g fiber; 427 mg sodium; 803 mg potassium.
Nutrition Bonus: Vitamin A (139% daily value), Vitamin C (26% dv), Potassium (23% dv), Folate & Iron (15% dv).