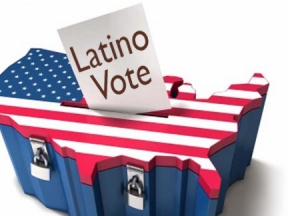 Enfocado exclusivamente en los votantes latinos registrados en la ciudad de Chicago – el esfuerzo de votación oportuna, Votantes Latinos de Chicago y la Segunda Ronda para la Alcaldía del 2015, conducida por Latino Decisions y copatrocinada por Latino Policy Forum, National Alliance of Latin American and Caribbean Communities (NALACC) y Univisión Chicago – fue publicado el lunes, 23 de marzo del 2015, en un ayuntamiento en el 541 N. Fairbanks Court.
Aunque hay más de 240,000 votantes latinos registrados en Chicago – un aumento del 25 por ciento desde el 2008 – están consistentemente subencuestados. Ya que Chicago enfrenta su primera segunda vuelta en elecciones para la alcaldía en la historia, la nueva encuesta muestra que los votantes latinos están entusiasmados y siguen de cerca las noticias sobre los candidatos.
La encuesta puso al descubierto que los votantes latinos demuestran un nivel excepcional de interés en las elecciones de abril. Cuando se les preguntó si estaban entusiasmados de depositar un voto en la próxima carrera, el 85 por ciento dijeron que están muy entusiasmados o entusiasmados.
El estudio descubrió que, similar a muchos votantes, los principales temas de los latinos de Chicago son la educación, la violencia y la creación de empleos. La encuesta descubrió también que uno de cada cinco votantes latinos encuestados aún no está decidido. Sesenta y uno por ciento dijeron que votarán por Jesús "Chuy" García y el 18 por ciento por Rahm Emanuel.
Latino Decisions encuestó una muestra representativa de 406 votantes latinos registrados en la ciudad de Chicago del 16 al 20 de marzo del 2015. Las encuestas fueron implementadas seleccionando al azar números telefónicos, en vivo y llamadas de teléfono de persona a persona (ej. no robocalls). La encuesta fue patrocinada por un grupo de organizaciones locales, no partisanas.