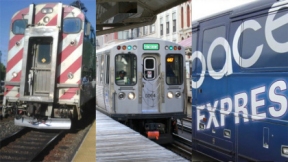 The Regional Transportation Authority (RTA) projected that the cuts described in Governor Rauner's proposed State of Illinois fiscal year 2016 (FY 2016) budget would level a blow to the operating budgets of CTA, Metra and Pace. It is estimated that the proposed cuts would total $169.5 million region wide—meaning the service boards would receive $169.5 million less in their operating budgets than expected in the FY 2016, which begins on July 1, 2015 and ends on June 30, 2016. The proposed cuts in the Governor's budget represent anticipated losses in funding from three main state sources:
Reducing the amount the state matches on total regional sales tax revenues by one-third, representing a $127 million cut from the $380 million that the state had budgeted for fiscal year 2016, which begins on July 1, 2015; and
Eliminating $34 million used to administer the state-mandated free ride and the federally-mandated reduced fare programs for seniors and persons with disabilities. These programs cost the region $130 million annually; and
Eliminating $8.5 million used to operate the federally-mandated ADA paratransit service.
The impact of these proposed cuts in state funding is severe. The proposed cuts represent a 45 percent decrease in CTA state funding or a $130 million cut; a 60 percent decrease in Metro state funding or a $20.8 million cut; a 41 percent decrease in Pace state funding or a $10 million cut and a 15 percent decrease in ADA paratransit state funding or $8.5 million cut.