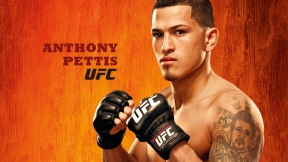 By: Ashmar Mandou
Since his debut in June of 2009, Milwaukee native Anthony Pettis has kept a dominant presence in the lightweight division. "I stay focused and I train as much as I can," said Pettis during an interview with Lawndale Bilingual Newspaper. The UFC lightweight champion will soon face off with contender Rafael dos Anjos in the Octagon on Saturday, March 14th at the American Airlines Center in Dallas, Texas.
This highly anticipated fight between Pettis and dos Anjos is a long time coming. "I admire dos Anjos as a fighter. I think he is one of the best fighters out there and I have a lot of respect for him." However, Pettis is ready to add to his five-time winning streak. In recent reports, dos Anjos admitted to studying some of Pettis' maneuvers, stating he had holes in his fighting. But Pettis is quick to dismiss those remarks and chalk it up to showmanship. "There is someone always saying something about someone else's fights. It's what you do. I know that I've been improving my performance so I'm ready," said Pettis. During our interview, Pettis shared some insight to his training and what motivates him to win Saturday's fight against dos Anjos.
Training Grounds
For the last two to three months I have been training non-stop, preparing for this fight with dos Anjos. He is a great fighter. So I made sure to have people in my corner who would keep my head right and put all I have to help me win.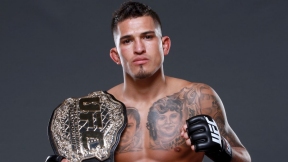 Motivation
My three year-old daughter keeps me motivated to do the best. Even though she can be a distraction because she is so cute [laughs] she is the reason why I do what I do. She is the reason I am at the gym working hard and improving my game.
Breaking into the UFC
A lot of people want to become the next great MMA fighter. A lot of people want to make it in UFC, but I always tell them they don't have to search for the gyms that have won championships. I didn't. I went to a gym that made time to train me and invest in me. That is all you need. You need to put the work into and be committed.
Fight Night
The audience will see a show. That's why they call my Anthony "Showtime" Pettis. I am there to give a show and entertain and fight.