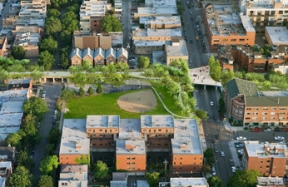 Mayor Emanuel and the Trust for Public Land announced the official opening date for The 606 Park and trail system on Chicago's northwest side will be – June 6th, 2015. The opening day festivities will include arts, performance, and community celebrations all along the 2.7 miles of the Bloomgindale Trail, the project's centerpiece.
Stretching between Ashland Ave (1600W) and Ridgeway (3750W) at Bloomingdale Ave (1800N), The 606 will be a unique park consisting of the elevated Bloomingdale Trail, connected to ground-level neighborhood parks, four of which will open alongside the trail on June 6. When complete, the park and trail system will include six ground-level parks, a wheel-friendly event plaza, an observatory, art installations, educational programming, and other amenities.
After the opening, The 606 will follow typical Chicago Park District hours of 6 a.m. to 11 p.m. The project is close to several stops on the CTA Blue Line, numerous bus routes, as well as the Clybourn stop on the Metra Milwaukee District/North (MD-N). Public transportation is encouraged to visit The 606, especially for those attending opening day celebrations. For more information on the project and the opening day festivities, please visit http://The606.org.