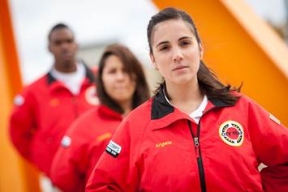 By: Ashmar Mandou
Humboldt Park native Jason Dones, 27, never visualized himself a teacher. In fact, he earned his degree in history at the University of Illinois Urbana-Champaign. However, it took an experience with City Year, a program that benefits at-risk students to completely change his mind. "I was fortunate to have positive role models in my life growing up," said Dones, City Year AmeriCorps Mentor. "This is my time to give back to my community and serve as a positive role model for young students."
City Year works with high-poverty communities to bridge the gap between the support that students actually need and what their schools are capable to provide. At City Year's 26 locations across the country and two international affiliates, groups of young adults, AmeriCorps mentors; work full-time in schools for 11 months providing one-on-one support to at-risk students. City Year aims to curtail the alarming dropout rate for Hispanic students by pairing them up with a mentor.
"It is definitely hard work. Even if you never thought about teaching, City Year gives you all the tools you need to be a great mentor; to be able to relate to students; to share your skills and knowledge on a relatable level. City Year is truly a unique program because you have a support system to help you out." In the last five years, Dones has taught in both charter and public schools and officially pursued a degree in teaching.
The mission of the young mentors is to provide 'extracurricular emotional and social support and skills that they nee to be successful and become future college students. Dones said individuals can make a huge difference joining AmeriCorps where you can build leadership skills and establish a great network. An AmeriCorps mentor will be provided health insurance, basic living expenses, uniforms, and a stipend. "The pay is minimal, but in the end that doesn't matter. What matters most are the students." If you are interested in learning more about City Year, visit www.cityyear.org.