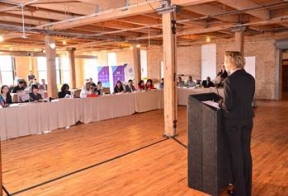 On Tuesday, April 14, Chicagoland community media was invited to the 3rd Annual Multicultural Media Roundtable Luncheon hosted by ComEd at the Lacuna Artists Loft Studios, located in the Pilsen neighborhood. Local media and influencers had the opportunity to sit down with top ComEd leaders to discuss the company's latest innovations, technologies, community partnerships, and experience ComEd innovation first-hand via a variety of live exhibits.
Opening the forum was Anne Pramaggiore, president and CEO, who highlighted the company's 2014 achievements, the success of their mentorship programs such as Icebox Derby competition, which gets young girls involved in science, technology, engineering, and mathematics (STEM). In addition, Pramaggiore highlighted the company's inaugural Diversity & Inclusion report, "A Whole New Light". Other speakers included Fidel Marquez, vice president of Governmental and External Affairs, Kevin Brookins, senior vice president of Strategy and Administration, and Isaac Akridge, vice president of Regulatory Projects, all of who touched on the importance of keeping the community media informed on upcoming local projects such as ComEd's "Energy Plan for Illinois' Future" and how the company is preparing for the "Utility of the Future."
This was a fantastic opportunity for ComEd leaders and media alike to join together and discuss the importance of getting involved collectively and learn to lead change within the city.