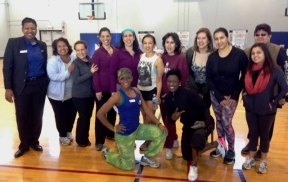 Las recientes temperaturas bajo cero no impidieron que la Fiesta de Zumba® fuera todo un éxito, con el objeto de celebrar el Mes Nacional del Corazón, presentada por el National Latino Education Institute y patrocinadores. La fiesta de Zumba® brindó la oportunidad de que todos los participantes, de todo nivel de preparación física, disfrutarán de un gran momento celebrando la salud del corazón, a cargo de experimentadas instructoras. Se dieron cita oficiales electos como la Senadora Estatal Iris Y. Martínez y la Representante Estatal Elizabeth "Lisa" Hernández quienes también integraron el Comité de Zumba® para animar a la comunidad latina a tomar muy seriamente la importancia de las enfermedades del corazón. Erika Maldonado, presentadora de noticias de Univision Chicago, fue la maestra de ceremonias quien energizó a los asistentes y desplegó su gracia y armonía por una hora y media de Zumba®. El evento para la Salud del Corazón de NLEI se llevó a cabo en el Rauner Family YMCA, localizado en 2700 S. Western en Chicago. Iris London, de FFC-Oak Park, y Naimah Cyprian del Rauner Family YMCA, fueron las instructoras que pusieron a bailar a los asistentes al ritmo de Zumba®.
Photo Caption: (From left to right)
Andrea Miller (YMCA Director), Marty Gutierrez (UIC), Luisa Echevarria (Univision), Erika Maldonado (Univision), Elba Aranda-Suh (NLEI), Arabel Alva Rosales, Sylvia Aldrete (ATT), Roxanne Nava (City of Chicago), Dorelia Rivera (DHS), Martha Dominguez (NLEI), Michael Hernandez (NLEi Board), and Instructors Naimah Cyprian and Iris London.