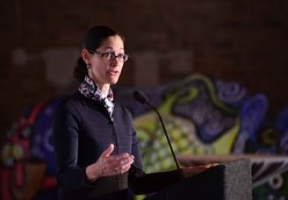 El martes, 14 de abril, los medios de comunicación comunitarios de Chicago fueron invitados al Almuerzo de la Tercera Mesa Redonda Multicultural Anual para los Medios de Comunicación, ofrecida por ComEd en Lacuna Artists Loft Studios, localizado en el barrio de Pilsen. Los medios de comunicación locales tuvieron la oportunidad de sentarse con los principales líderes de ComEd para discutir las últimas innovaciones, tecnologías, afiliaciones comunitarias y experiencias de la compañía ComEd, vía una variedad de exhibiciones en vivo.
Anne Pramaggiore, presidenta y CEO abrió el foro, destacando los logros de la compañía en el 2014, el éxito de sus programas de tutoría, como la competencia Icebox Derby, donde las jovencitas participan en ciencias, tecnología, ingeniería y matemáticas (STEM). Además, Pramaggiore destacó el reporte inaugural Diversidad & Inclusión de la compañía, "A Whole New Light". Otros oradores incluyeron a Fidel Márquez, vicepresidente de Asuntos Externos y Gubernamentales, a Kevin Brookins, vicepresidente senior de Estrategia y Administración y a Isaac Akridge, vicepresidente de Proyectos Regulatorios, quienes hablaron sobre la importancia de mantener a los medios de comunicación comunitarios informados de próximos proyectos locales, como "Plan de Energía para el Futuro de Illinois" de ComEd, y cómo la compañía se prepara para "Utility of the Future".
Esta fue una fantástica oportunidad para que los líderes de ComEd y los medios de comunicación se reunieran y discutieran la importancia de participar en forma colectiva y aprender a conducir el cambio dentro de la ciudad.