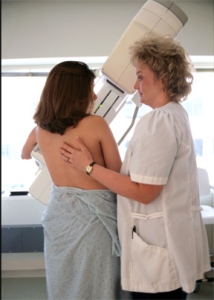 Silver Lining Foundation (ASLF) anunció una promesa de $150,000 de BMO Harris Bank para apoyar la ampliación de Buy a Mom A Mammogram® en el Hospital St. Anthony en Chicago.
El programa Buy a Mom A Mammogram® de ASLF elimina el costo como barrera para los servicios de salud del seno, ofreciendo fondos a asociados del hospital para apoyar el servicio de mamogramas, la evaluación de diagnósticos y las pruebas subsecuentes cuando se indiquen. El Hospital St. Anthony, hospital comunitario, ha sido un afiliado de ASLF desde febrero del 2013 y practica más de 200 mamogramas cada mes. Por más de un siglo, el Hospital St. Anthony ha ofrecido cuidado médico, servicios sociales y enlace comunitario a los residentes de ocho barrios de la ciudad: La Villita, North Lawndale, Pilsen, Brighton Park, Back of the Yards, McKinley Park, Archer Heights y Chicago Lawn, así como en los suburbios de Cicero y Berwyn. El apoyo de BMO Harris brindará a ASLF y al Hospital St. Anthony la habilidad de ampliar la concientización, la educación sobre la salud del seno y el acceso a la mamografía y a la prueba de diagnóstico a los habitantes de las comunidades identificadas.
Para más información, comunicarse a la red de Silver Lining Foundation www.asilverliningfoundatioin.org, por teléfono al 312-345-1322 y al número gratuito 1-877-924-1126 o vía e-mail a infor@asilverliningfoundatioin.org.