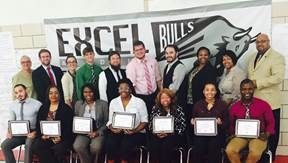 Camelot's teaching techniques are based on a framework created by Boston-based Jobs for the Future, an organization committed to ensuring that all underprepared young people have the skills and credentials needed to succeed. The instructional model has led to phenomenal academic gains by "second chance" learners in Camelot's accelerated high school programs.
"We train all of our teachers in the JFF system when they join Camelot, but we also try during the school year to get them into the intense two-day training. Until now, they had to fly to Philadelphia to do that. Having a designated school in Chicago gives us a more convenient location to conduct this training for our Chicago staff," said Pedro Segarra, Camelot Regional Vice President.
Camelot has developed master teachers at Excel Academy who are skilled in training new staff in the JFF system. Participants attended the two day residency to practice an internal structure for establishing the Common Instructional Framework. Camelot also uses a the JFF Common Instructional Framework in its suburban Chicago therapeutic day schools, and teachers there will be invited to participate in the training at Excel Academy as well.