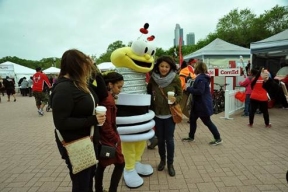 Iluminan la Fuente de Buckingham para Marcar el Inicio Oficial del Verano
Chicago ha entrado oficialmente al verano. ComEd y el Distrito de Parques de Chicago iluminaron recientemente la Fuente de Buckingham con una celebración de variedad y diversión en vivo para todas las edades. Además de las actividades educativas y rifas entre los miembros, ofrecidas por los socios participantes – incluyendo el Museo de Ciencias e Industrias, el Shedd Aquarium, el Field Museum, Chicago Architecture Foundation, Brookfield Zoo y el Museo Infantil del Chicago – el evento ofreció las actuaciones de 7th Heaven, the Soul Children of Chicago y el Ballet Joffrey; y consejos para ahorrar energía, juegos y actividades provistos por ComEd.
PIE DE FOTO
Louie, el Insecto Luminoso de ComEd's comparte un abrazo e información sobre ahorro de energía con los asistentes al #SwitchOnSummer 2015.
Fidel Márquez, SVP de ComEd (Izq) se une a la familia Nitzschke de Northbrook, a la reportera de Chicago TV Ana Beleval (centro) y a los miembros de la familia ComEd en #SwitchOnSummer2015.