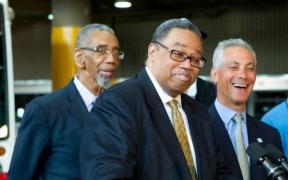 Mayor Rahm Emanuel on Tuesday named Dorval R. Carter, Jr. as the new President of the Chicago Transit Authority. Carter, who has more than 30 years of experience in public transit at both the city and federal levels, joins the CTA from the U.S. Department of Transportation in Washington, D.C., where he most recently has served as Acting Chief of Staff to Secretary Anthony Foxx.
Carter becomes the first African-American president of the CTA since the agency's inception in 1947. He served the CTA from 2000 to 2009 where he held a variety of posts culminating in Executive Vice President and Chief Administrative Officer. During his tenure, Carter was responsible for directing and coordinating the principal planning and operating functions of CTA's $1 billion operating budget and five-year capital improvement program. He also served as Acting CTA President from January to April 2009.
Carter began his career with the CTA in 1984 as a staff attorney, and later he held various positions including General Attorney and Deputy General Attorney for Corporate Law. Carter will begin serving in his new role at CTA the week of May 18.