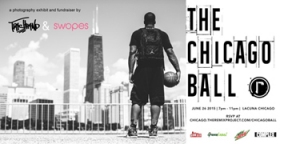 The L.A.T.E. Ride: Light Up the Night
Date: June 27/28
Time: 1a.m.
Location: Buckingham Foundation (500 S. Columbus Dr)
Cost: $70
Join fellow cyclists for a 25-mile bike ride throughout the City of Chicago benefitting Friends of the Parks. For more information, visit www.lateride.org.
2015 Dragon Boat Race for Literacy
Date: June 27th
Time: 8a.m. 5p.m.
Location: Ping Tom Memorial Park, 300 W. 19th St.
Cost: Free
The Chicago Chinatown Chamber of Commerce the 2015 Dragon Boat Race where over 10,000 people will watch and participate in the day's activities.
For more information, visit www.chicagochinatown.org.
Mountain Dew Presents 'The Chicago Ball' Charity Event
Date: June 26th
Time: 6p.m. to 11p.m.
Location: The Reverie Gallery at LACUNA Chicago, 2150 S. Canalport, Pilsen, IL
What: Mountain Dew is hosting The Chicago Ball, a large format photography exhibit and cocktail party in support of youth charity through The Remix Project. The "black sneaker" affair pays homage to the cultural fabric of street ball and features a photo installation of Chicago's scene through the camera lenses of local photographers trashhand and Elise Swopes, who are collaborating on an exhibit for the first time at The Chicago Ball. Must be 18+ to attend.
RSVP: Chicago.theremixproject.com/chicagoball
Miguel Zenón: the Jazz Showcase
Date: June 25th thru June 28th
Time: 8p.m. and 10p.m. and 4p.m. on Sunday
Location: Jazz Showcase, 806 S. Plymouth Court, Chicago.
Cost: $25-45
For more information, visit www.jazzshowcase.com
Pride Parade
Date: June 28th
Time: Noon
Location 4400 Broadway
Broadway and Montrose Avenue
For more information, visit www.chicagopride.gopride.com