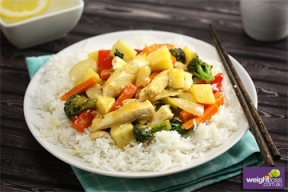 Ingredients
1 tbsp. olive oil
1 large chicken breast (300g)
60g pineapple, chopped
¼ cup pineapple juice
1 tsp. brown sugar
2 tbsp. mirin or rice wine vinegar
½ cup chicken stock, salt reduced
1 large carrot, chopped
100g broccoli cut into florets
¼ onion cut into chunks
2 cloves garlic, crushed
1 tsp. ginger, crushed
1 tbsp. soy sauce, light
100g per person cooked rice (optional)
Method
Heat olive oil in a non-stick fry pan or wok and sauté onion and capsicum for a couple of minutes.
Turn heat up and add chicken stir frying until chicken has seared. Add broccoli, carrots, stock, ginger, and garlic cooking a further couple of minutes on high heat.
Now add pineapple, juice, sugar, soy and mirin. Turn heat down, simmer for a couple of minutes until all cooked.
Serve immediately.