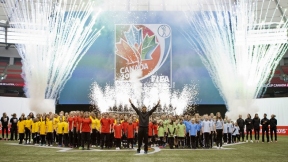 Comcast has announced that it will provide its customers with extensive coverage of this summer's most anticipated international soccer tournaments which include: the FIFA Women's World Cup Canada 2015, Copa America, the Gold Cup and the FIFA Under-20 World Cup New Zealand 2015. Xfinity TV costumers will not only have live access to all 104 matches on their TV, they will also be able to stream matches on the go in both Spanish and English through TV Everywhere (TVE) and/or XFINITY TV Go.
Copa America: beIN SPORTS will offer live streaming of all matches in English and Spanish to all Xfinity TV customers through the Xfinity TV GO app.
Gold Cup: All matches of the Gold Cup will be available in English and Spanish through the XFINITY TV GO app, Univision's TV Everywhere and on FOX Sports Go.
To keep up with the latest information on Summer of Soccer visit www.xfinity.com/latino where you will find information on all upcoming matches, direct live-stream access, soccer blogs, daily line-up of upcoming matches, etc.