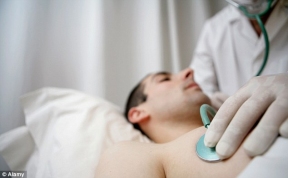 Junio es el Mes Nacional de la Salud Masculina y ya que el Día del Padre se aproxima, la Red de Donantes de Organos & Tejidos Gift of Hope exhorta a los hombres y a sus seres queridos a que hablen sobre la importancia de llevar un estilo de vida saludable y buscar consejo médico para evitar graves complicaciones de salud.
La falta de una pronta detección de ciertas enfermedades puede tener graves consecuencias que provoquen la falla de un órgano y la necesidad de un transplante. Las amenazas de salud más prevalentes que enfrentan los hombres hispanos son la diabetes, enfermedades biliares, hipertensión y obesidad. La diabetes Tipo 2 muchas veces llamada el "asesino silencioso", no muestra síntomas visuales al principio, pero las complicaciones incluyen la pérdida de la vista, embolias y fallas renales. Las enfermedades biliares, que pueden ser genéticas o causadas por factores como la obesidad, pueden gradualmente, o en algunos casos raros, dañar el rápidamente hígado sin haber remedio posible. Las enfermedades cardíacas, cuando no se tratan, pueden producir coágulos sanguíneos y producir un ataque cardíaco o una embolia y algunas veces la muerte. Los hombres latinos tienen un riesgo, desproporcionadamente más alto, de sufrir estas condiciones médicas que los hombres en la población general, debido en parte a un estilo de vida poco saludable.
Actualmente, más de 3,000 hombres están en la lista de espera de transplantes de Illinois. Más de 2,500 de ellos esperan el transplante de un riñón, 250 necesitan un transplante de hígado y 150 necesitan un transplante del corazón. En celebración del Mes Nacional de la Salud Masculina y el Día del Padre, Gift of Hope recuerda a las familias hispanas que la prevención de enfermedades y la pronta detección de enfermedades como la hipertensión, la diabetes y las enfermedades cardíacas y biliares, es clave para tener una vida larga y saludable al lado de sus seres queridos y exhorta a los hombres hispanos a que hagan una prioridad su salud y su visita regular con su doctor.