From the Chicago Zoological Society's inception, its mission has been to inspire conservation leadership by connecting people with wildlife and nature. The best way to accomplish this is, and always has been, the animals at Brookfield Zoo. On July 1, 2015, Hamill Family Wild Encounters, an exciting new interactive animal experience, opens. Every aspect of it is designed to create special and extraordinary encounters for zoo guests of all ages by providing opportunities to interact and get up close to some very charismatic animals. The animals featured truly are an intercontinental group that represents species from all over the world, including the frigid northern tundra, the towering Andes, and the Australian Outback. Guests encounter both domestic and exotic species, including Bennett's wallabies, parakeets, emus, and reindeer, as well as the zoo's menagerie of more than 70 animal ambassadors. Admission to Hamill Family Wild Encounters is $5 for adults and $3 for children 3-11 and seniors 65 and over. Children 2 and under are admitted free (Brookfield Zoo members pay half price).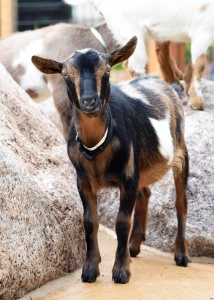 Photo credit: Jim Schulz/Chicago Zoological Society
Bennett's wallaby: Guests of all ages have an opportunity to get up-close and even feed wallabies at Brookfield Zoo's Hamill Family Wild Encounters.
Nigerian dwarf goat: Nearly 30, Nigerian dwarf goats can be seen in Brookfield Zoo's Hamill Family Wild Encounters. Guests are able to touch, groom, and even feed the goats (a small fee applies for dispensed grain).