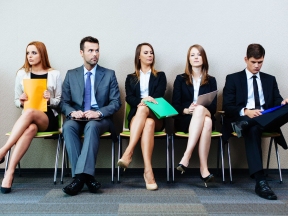 Después de meses de responder a propuestas de trabajo, finalmente tiene una entrevista. Este podría ser un momento clave en su vida y en su carrera, por lo que es natural que se sienta nervioso. Pero, no hay razón para dejar que la tensión se apodere de su día, dice Lisa Quast, autora del libro "Secrets of a Hiring manager Turned Career Coah: A Foolproof Guide to Getting the Job You Want Every Time" (www.careerwomaninc.com) . Lisa ofrece estos consejos sobre como pasar el día de la entrevista con tan poca tensión como sea posible:
Sepa a donde tiene que ir: No espere hasta poco antes de la entrevista para asegurarse que tiene la dirección y el número de teléfono correctos. Verifíquelos en la computadora revisando la red de la compañía unos días antes de la entrevista. También puede imprimir las direcciones para llegar o programar la dirección en su smartphone o GPS para encontrar las mejores rutas y calcular el tiempo. "Cuando tenga duda, haga una prueba", dice Quast. "Puede ir ahí la semana anterior para ver el lugar y ver donde puede estacionar". No confíe solo en la tecnología. Siempre tenga una copia en papel con la dirección y las instrucciones para llegar allá, solo en caso de que el GPS o el smartphone le falle.
Obtenga el nombre, deletreado correctamente, de la persona que le va a entrevistar. Y recuerde, lleve consigo una copia de la oferta de trabajo. "No deja de sorprenderme cuantas personas llegan a una entrevista de trabajo y no pueden recordar el hombre del gerente que lo va a contratar ni el título de la posición del trabajo para el que lo están entrevistando", dice Quast. "No sea uno de ellos".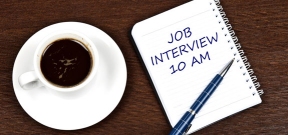 Programe suficiente tiempo para la entrevista. Bloquee su calendario para que no necesite apurarse de una entrevista a otra o ir directamente a otra cita o de regreso al trabajo. "La entrevista podría llevarle mucho más tiempo del que usted cree",dice Quast. Por ejemplo, si las cosas van bien, se le puede pedir que se entreviste con otras personas de la organización. Asegúrese de programar bastante tiempo en caso de que necesite quedarse más. "Lo peor que puede hacer es estar mirando el reloj cuando debe estar escuchando a lo que el gerente de contratación le dice", dice Quast.
Apague su celular. "Cuando digo apague, quiero decir apague", dice Quast. "No lo ponga en vibrador". La razón, dice, es que casi todos pueden escuchar un teléfono celular vibrando en una bolsa, un portafolio o un bolsillo. Usted se dará cuenta que le está entrando una llamada. La persona que le está entrevistando lo sabrá y usted sabrá que se han dado cuenta.
Tome un descanso para ir al baño antes de la entrevista. Use el baño antes de salir de su casa y evite tomar demasiado café u otros líquidos poco antes de su entrevista. Si necesita usar el baño cuando llegue a la compañía, pida al recepcionista que le indique donde está, antes de que informe al gerente de contratación que usted ha llegado.