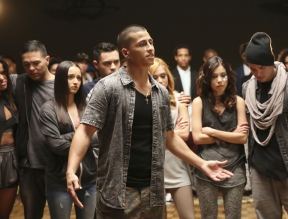 By: Ashmar Mandou
For singer and actor Carlito Olivero, a Chicago native, devoting time to his craft is the key to success. "I firmly believe if you have a passion in life don't spend your time telling people about it, go and do it," said Olivero, who was in Chicago on Monday at The James Hotel to promote his latest venture, East Los High, a HULU all Latino original series that takes on social issues affecting many Latinos in the country, such as immigration, health concerns, sex, and teenage angst. Olivero, a former member of Menudo, plays Eddie, a Mexican-Cuban who is the main caretaker for his diabetic mother. "What I love about East Los High is that it's not your average teenage drama," said Olivero. "The show touches upon issues that currently affect Latinos in this country, which is what interested me the most." We asked Olivero to share his favorite East Los High moments.
Dialogue
I have never experienced a show or have seen a show that addresses actual issues Latinos are facing. This show strays away from the stereotypical Latino roles we see in other shows where they have the one-liner to make everyone laugh. East Los High deals with the fear of deportation, the barriers of receiving higher education, and even talks about sex. The reality of what happens when people practice unsafe sex. There is a character on the show who deals with HIV and I think since sex is such a taboo issue among Latino families, what East Los High does is bring those issues to the forefront. The show invites families to talk about certain issues.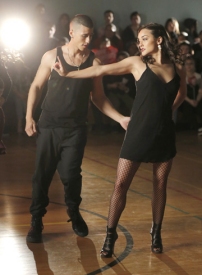 Eddie
My character loves to dance, but deals with caring for a sick mother. There are multiple similarities between the character I play and who I am. We both love to dance and sing, but we work hard to accomplish our personal goals. It is great to be part of a cast who are pretty much dorks [laughs], but we have a great time doing the show. We hope people, Latinos and non-Latinos, can appreciate the content and how East Los High's goal is to change the country's perception of Latinos.
Dreams
My advice for anyone who wants to follow their dreams is not a cliché one. I firmly believe that you have to work hard at it everyday. Don't just talk about it because if you don't do it people will hold you accountable. Dedicate each day to accomplishing one thing that will get you closer to your end goal. Dedicate time to your craft. Be strong and don't take "no" for an answer.