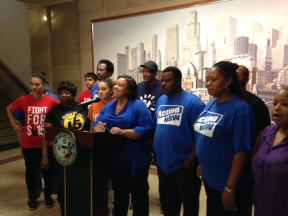 By: Ashmar Mandou
Minimum wage workers rejoiced Wednesday morning as the City increased the wage to $10 an hour, taking the initial step towards $13 an hour in 2019, a decision set by city ordinance last fall.
"We are here today to celebrate a victory for a Chicago's working families, but also to recognize that there is more work to be done as we push forward to ensure that all families have the opportunity to thrive in this great city," said Action Now Executive Director Katelyn Johnson during a press conference held at City Hall. "Today marks the first increase in the Chicago minimum wage, now up to $10/hr. That means that in this next year, workers who were making $8.25/hr will have an additional $3540 to help support their families." Members of the coalition Raise Chicago marked the historic moment by celebrating the victory while remaining cognizant in their demand for a $15 living wage.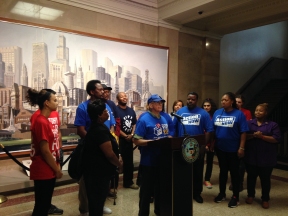 "Today, more than 200,000 workers in the City of Chicago will receive a much needed raise, an essential step in making sure that hard work pays off for all of our residents," said Mayor Rahm Emanuel. "If you work hard in the City of Chicago, you should be able to afford to live here and raise your children here."
For two years, Raise Chicago fought the city's minimum wage from $8.25 to $15 per hour. Full-time minimum wage workers earned only $17,160 before taxes. Under the ordinance workers will now earn $20,800 per year. Median costs of a one-bedroom apartment in struggling neighborhoods like North Lawndale, East Garfield Park, and Hermosa run over $700 and $800. The federal Department of Housing and Urban Development says affordable housing equates to one-third or less of a household's tax home pay. The city's minimum wage will continue to increase each year on July 1st until it reaches $13 an hour by 2019. Tipped employees received a 50 cent raise in the first step and another 50 cent raise July 1st, 2016 to $5.95.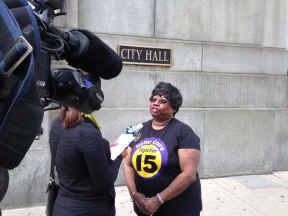 Mayor Emanuel announced that BACP will hold a workshop for business owners to learn more about the increase in the city's minimum wage on Wednesday, July 8 from 3:00PM to 4:30PM at City Hall, 121 North LaSalle Street, Room 805. The United States Department of Labor will also be on hand to answer questions regarding the federal minimum wage and overtime.