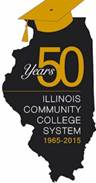 El Sistema de Illinois Community College cumple 50 años! Legisladores estatales y altos líderes de la educación celebraron este medio siglo de logros el 12 de agosto en Joliet Junior College en Joliet, lugar de nacimiento del movimiento colegio comunitario de la nación.
"El sistema de colegio comunitario de Illinois no es la educación de ayer, sino la educación del mañana" dijo la Dra. Karen Hunter Anderson, directora ejecutiva de la Junta de Illinois Community College. "El sistema es uno de los mayores sistemas de colegio comunitario del país y sin duda el mejor sistema del mundo".
La Dra. Anderson entregó también una proclama del Gob Bruce Rauner, declarando del 15 de julio del 2015 al 15 de julio del 2016 como "El Año del Colegio Comunitario" en honor al éxito estudiantil de 50 años del sistema de Illinois.
Desde el 15 de julio de 1965, cuando el Acta de Colegio Comunitario Público de Illinois fuera convertido en ley, el sistema se ha ampliado en el estado a 39 distritos de colegio comunitario y 40 campos. Los colegios comunitarios de Illinois sirven ahora aproximadamente a un millón de estudiantes cada año.
El presidente de la Asociación de Fideicomisarios de Illinois Community College, Andrew Bollman, comentó que "en los últimos 50 años, los colegios comunitarios han fortalecido este estado y la nación brindando trabajadores en todos los campos de estudios, desde la medicina a la aplicación de la ley y a formas alternativas de energía.
Las organizaciones participantes del 50 aniversario incluyen a Illinois Community College Board, Illinois Community College Trustees Association, Illinois Council of Community College Presidents, Illinois Council of Community College Administrators, Illinois Community College Faculty Association y National Council of Public Relations and Marketing.