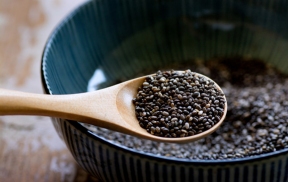 By: Ashmar Mandou
Registered Dietician Amy Klassman is sharing some very important tips for older adults looking to lead healthy lifestyles. "There are so many conflicting reports about what foods to eat, what foods to avoid, which foods to eat in moderation and that can be overwhelming for many people," said Klassman. "My rule of thumb is incorporate vegetables and fruits into your diet. Do everything in moderation and when you can add a little more fiber to your diet." Klassman urges older people to incorporate three ingredients into their daily diet that will help give them the energy they need.
Quinoa – This fiber and protein rich grain is especially beneficial for older adults looking to maintain a healthy digestive system.
Matcha Tea – This green tea powder is the new must-have food for adults young and old because it's a fat-burner, a cancer fighter, it increases concentration and boosts energy.
Chia seed – This nutrient powerhouse is one of the world's best sources for key nutrients and is crucial for seniors looking to prevent osteoporosis.