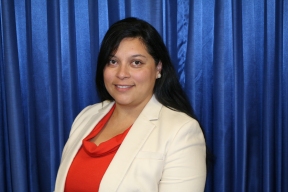 Cook County Board President Toni Preckwinkle has named Anel Ruiz, currently Community Outreach Liaison Coordinator in the Office of the President, as her new Deputy Chief of Staff. Ruiz replaces Tasha Cruzat, now Chief of Staff, in the deputy role. Her appointment is effective immediately. "Anel will work closely with Tasha in identifying and carrying out our various agenda initiatives," Preckwinkle said. "Her background in policy along with her ability to work with numerous internal and external stakeholders will serve her well in this new role."
Ruiz, 33, was born in Mexico and moved to Chicago at the age of 18. A resident of Ashburn, she joined the Preckwinkle administration in December 2013 as Community Outreach Liaison. In that position, she built on President Preckwinkle's efforts at engaging numerous communities throughout Cook County, including developing and staffing a number of ethnic advisory councils. "I am honored to serve President Preckwinkle as Deputy Chief of Staff. I look forward to building on President Preckwinkle's priorities with a focus on the inclusion of diverse voices and perspectives," Ruiz said.
Ruiz has a Bachelor's degree in political science from Augustana College and has completed coursework in management and accounting at University of Illinois at Chicago. She was a Leadership Greater Chicago 2014 Fellow and is a Board Member of Planned Parenthood of Illinois.