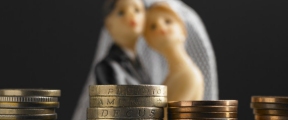 El dinero puede no tener el poder de comprar felicidad, pero seguro puede estresarnos. De hecho, un estudio hecho por American Psychological Association, señala que el dinero es la causa principal de estrés para los estadounidenses, con un 72 por ciento diciendo que por lo menos han sentido alguna tensión por el dinero en los meses anteriores.
Lo que es más, cerca de una tercera parte de adultos con pareja dice que el dinero es la causa principal de conflicto en su relación. Los resultados de esos estudios no son necesariamente sorprendentes, pero tampoco hay necesidad de tratarlos como inevitables, dice Cynthia Fick, autora del libro "The Sisterhood of Money: The Art of Creating Wealth from Your Heart" (www.thesisterhoodofmoney.com). Quien da estos consejos para ayudar a las parejas a evitar conflictos provocados por el dinero.
Acepta tus diferencias. "Solo porque los puntos de vista de tu esposo sobre el dinero son diferentes a los tuyos no significa que él esté equivocado y que tu tengas la razón", dice Fick. "Algunas veces diferente es solo diferente". Es importante estar abierto al compromiso y estar dispuesto a escuchar los puntos de vista del otro, dice.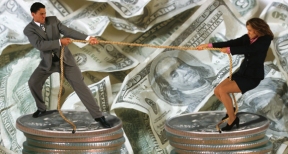 Actúen como equipo. Ambos tienen conocimiento, experiencia y puntos de vista que llevar a una situación. Aprovechen eso, porque cuando una pareja trabaja junta, es más fuerte. Dice Fick. "Piénselo de esta manera", dice. "cuando ambos esposos son ahorradores, tal vez no se diviertan mucho. Cuando ambos son gastadores pueden poner su futuro en peligro porque no tendrán ahorros suficientes".
No espere a que llegue una crisis para hablar. Las discusiones sobre asuntos financieros son mejores cuando la cabeza está fría y no ha surgido un problema que eleve los niveles de estrés, dice Fick. "Puede fijar una hora regular para hablar sobre su situación monetaria para que, con suerte, sea una atmósfera más relajada", dice.
Si es necesario, busque ayuda. Ustedes dos no tienen que pasar por esto solos, dice Fick. Si necesitan asistencia de planeación financiera, una consejería sobre administración de dinero, o inclusive una consejería de relaciones, deben buscar la ayuda de un profesional. Esa persona puede señalar las preocupaciones de ambos esposos y ofrecer su consejo desde un punto de vista objetivo e informado, dice Fick.