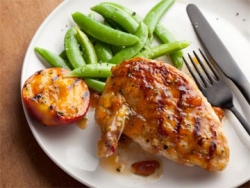 Ingredients
4 boneless chicken breast halves, without skin
1 tablespoon melted butter
Salt and pepper
2/3 cup peach preserves
1 tablespoon spicy brown mustard or Creole mustard
1 teaspoon balsamic or cider vinegar
Pinch dried thyme
Preparation
Heat oven to 350°. Lightly grease a 13×9-inch baking dish or spray with cooking spray.
Wash chicken and pat dry. Put chicken between sheets of plastic wrap and pound gently just to even out the thickness. Place the chicken in the prepared baking pan. Brush chicken with a little melted butter and sprinkle with salt and pepper. Bake for 10 minutes.
Meanwhile, combine glaze ingredients; stir to blend well.
Coat chicken thoroughly with the glaze; bake for 10 to 15 minutes longer, or until golden brown and cooked through. If your chicken breasts are quite thick, they might take a little longer. The juices should run clear when pricked with a fork.
Serves 4.