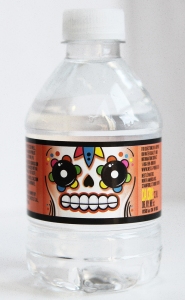 Hacer una celebración de Halloween o el Día de los Muertos debería ser tan divertida para usted como para los pequeños. Hay muchas formas de hacer que todos participen en la preparación y el proceso de decoración, mientras disfrutan de festivos convites y diversión. A continuación unas cuantas ideas para ayudarle a inspirarse en su próxima fiesta ¡spooktacular!
Gusanos de Gelatina y Momias de Hot Dogs – Pruebe una receta que convierta su sabor favorito de gelatina en un platillo súper espeluznante, pero sabroso. O actualice la receta clásica de Pigs-in-a-Blanket para crear esos inspirados bocadillos de Halloween. Invite a los niños a que le ayuden a preparar estas recetas y convierta el momento de hacer bocadillos en un momento de juego. Jugar con la comida nunca ha sido tan divertido!
Galletas del Día de los Muertos – Agregue un toque festivo a su fiesta con galletas en forma de calaveras de azúcar. Puede comprar los moldes para las galletas y facilitar el proceso. Utilice decorado de colores e invite a todos a decorar sus galletas en su estilo único.
Bebidas Saludables – Las botellas de 8 oz de Nestlé® Pure Life® Halloween monster / Calavera del Día de los Muertos; son una opción saludable que puede tener para los chicos. Con diseños inspirados en estos días, incluyendo un gato, una linterna de calabaza y una calavera, son una forma fácil de mantener a los niños hidratados, ya sea en una fiesta o en el recorrido de trick-or-treat.
Películas Inspiradas en Halloween – La diversión para sus invitados no necesita ser tan espeluznante. Puede escoger una selección de películas clásicas, como The Nightmare Before Christmas o crear nuevas tradiciones con películas inspiradas en el Día de los Muertos, como The Book of Life.
Decoraciones DIY – Si le preocupa dejar que sus pequeños tallen las calabazas, considere proponer un concurso de decoración de calabazas.. Puede usar pinturas, esténciles, botones y todo tipo de artesanías para crear diseños únicos. O use papel de china de colores o limpiapipas para crear flores sencillas, las tradicionales flores de muerto, que puede utilizar para decorar los altares durante el Día de los Muertos.