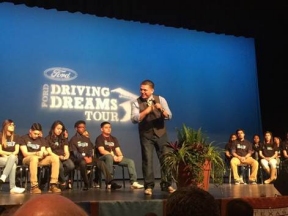 Ford Driving Dreams was selected among 150 national Commitments to Action announced by President Obama at a public announcement on October 15. Ford's signature program, Ford Driving Dreams was recognized for its commitment to closing the Latino achievement gap by the White House Initiative on Educational Excellence for Hispanics. Ford Motor Company Fund responded to the Initiative's call to action from national programs making meaningful contributions to help close the achievement gap in Hispanic education.
"In the spirit of what President Obama calls a "shared responsibility," the Initiative challenged the public and private sectors to make Commitments to Action that will build on, and accelerate federal, state, and local investments in high-quality education, from cradle-to-career, for the nation's Latino community." The Commitments to Action is available at www.ed.gov/HispanicInitiative. Ford Driving Dreams was also featured as a "Bright Spot in Hispanic Education" as part of the Initiative. Bright Spots are programs, models and initiatives, and organizations across the country that are helping to close achievement gap so students can excel in school. For more information about Ford Driving Dreams visit: www.fordscholars.org/drivingdreams.
Photo: Roy Juarez, Motivational/Empowerment Speaker at Ford Driving Dreams Tour. Foto: Roy Juárez ofrece Charla Motivacional en la Gira Ford Impulsando Sueños.