El 22 de octubre, más de 800 líderes comunitarios, cívicos y del comercio celebraron la Gala del 25 Aniversario de The Resurrection Project. En la culminación del evento, TRP anunció la Campaña Imagine More de $25 millones, sin precedentes. Esta campaña costeará el plan Vision 2020 de la organización, iniciativa estratégica para reunir $460 millones adicionales en reinversiones para transformar comunidades con problemas en comunidades promisorias.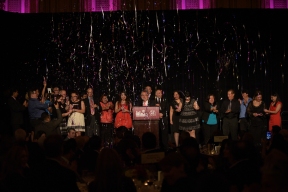 La Campaña Imagine More tiene ya $16.5 millones en regalos y promesas, incluyendo un subsidio de $10 millones de un generoso donador anónimo. El gabinete principal de esta campaña incluye a: J. Thomas Hurvis, cofundador y director de Old World Industries; Jame W. Mabie, socio de William Blair & Co.; José Luis prado, expresidente de Quaker Oats North America; y John Rowe, Director al mérito de Exelon Corp.
The Resurrection Project comenzó hace 25 años como un esfuerzo comunitario, con una modesta inversión inicial de $30,000", dijo James W. Mabie. "Tales campañas son típicamente reservadas para organizaciones académicas y culturales más grandes, pero dado el liderazgo y éxito de TRP en recaudar más de $346 millones en inversiones comunitarias para mejorar la calidad de vida en diferentes barrios, la organización está lista para tener una exitosa campaña".