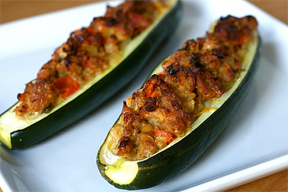 Ingredients
1 zucchini, about 12 inches long (or 2 6-inch)
2 tbsp. olive oil, divided
½ cup onion, chopped
3 cloves garlic, minced
½ cup mushrooms, chopped
1 lb. turkey sausage or ground turkey
2 tbsp. dry white wine
2-3 tomatoes, seeded and diced
3 tbsp. chopped fresh basil
1 tsp. minced fresh rosemary
¾ cup grated Parmesan cheese
1 egg, lightly beaten
½ tsp. salt
½ tsp. pepper
Directions



Cut zucchini in half lengthwise. Scoop out insides, leaving a shell about ¼-inch thick. Reserve about half of the insides.
In a medium skillet over medium-high heat, heat 1 tablespoon of olive oil. Sauté the onion and garlic until tender, about 4-5 minutes. Add the mushrooms and reserved zucchini insides to the skillet and sauté another 2 minutes. Remove from the heat.
Heat the remaining tablespoon of the olive oil in a skillet over medium-high heat. Crumble in the sausage or ground turkey and cook until lightly browned on all sides, stirring occasionally. Stir in the cooked onion and mushroom mixture. Add the wine to the pan along with the tomatoes, basil and rosemary. Cook for 1 more minute. Drain of any excess fat, remove from heat and set aside to cool.
Preheat the oven to 375° F. Once the turkey mixture has cooled a bit, mix in the Parmesan, egg, salt and pepper. Fill the zucchini shells with the mixture. Fill a baking dish with ¼-inch of water. Place the filled zucchini shells in the pan and bake in the preheated oven for 40 minutes, until golden brown. Remove the zucchini from the pan and serve immediately.