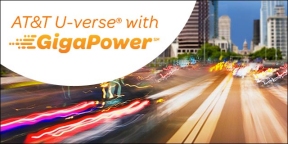 AT&T is expanding the availability of U-verse® with AT&T GigaPowerSM to more residential and small business customers in Aurora, Huntley and Joliet. The new Internet service gives customers some of the fastest online speeds available anywhere. Customers can download 25 songs in less than 1 second, a TV show in three seconds or their favorite HD movie in less than 36 seconds.
U-verse with AT&T GigaPower offers Internet speeds up to 1 gigabit per second. It can improve the experience for customers when connecting to the cloud, doing a videoconference, streaming videos and music, playing online games and more. AT&T GigaPower is already available in parts of Chicago, Des Plaines, Elgin, Manhattan, Norridge, Oswego, Plainfield, Skokie, Yorkville and surrounding communities. The high-speed Internet service is 99.9 percent reliable. It offers the fastest Wi-Fi signal with an upgraded home gateway using the latest technology. The new gateway connects more devices with faster speeds from nearly anywhere in the home or business.
Customers who sign up for U-verse with AT&T GigaPower will also have access to award-winning U-verse TV and Voice services. New customers can watch and record up to 6 HD programs at the same time. For more information on U-verse with AT&T GigaPower, or to check availability, please visit att.com/gigapower.