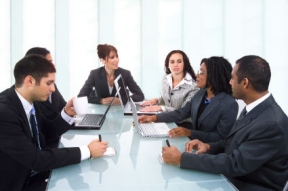 Muchos empleados probablemente protestan y gruñen cuando ven que el jefe ha programado otra junta. Pero Cameron Herold, experto en negocios y autor de "Double Double: How to Double Your Revenue and Profit in 3 Years or Less" (www.DoubleDoubleBook.com), [Doble Doble: Como Duplicar Su Ingreso y Ganancias en 3 Años o Menos] dice que no tiene por que ser así. "Las juntas no son terribles", dice Herold. "Nosotros somos simplemente terribles en las juntas". Dice que los negocios pueden usar mejor el tiempo que se pasa en las juntas y mejorar la moral y la productividad del empleado en el proceso, si siguen unos sencillos pasos.
Tenga una agenda. Las reuniones que no tienen una agenda clara tienden a perder la pista fácilmente. Muchas veces incluyen gente que no necesita estar ahí y que estaría mejor sentada en su escritorio, terminando proyectos importantes, dice Herold. La agenda puede ser corta, pero debe incluir el propósito principal de la reunión, los posibles resultados y los puntos de la acción a tomar. "Una agenda evita que la reunión sea pirateada por algún tema al azar", dice Herold. "Permite también que sus miembros del equipo más introvertidos se preparen para lo que quieren decir en el debate. La mayoría de introvertidos no participa cuando no conoce la agenda por adelantado y usted podría perderse algunas muy buenas ideas".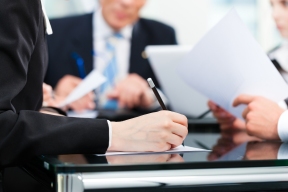 Determine un estilo para la reunión. Hay básicamente tres estilos de reuniones: compartir información, debate creativo y decisiones por consenso. En una reunión para compartir información la información fluye en una sola dirección. Ya sea que los empleados digan algo al liderazgo o que la administración tenga algo que decir a sus empleados.
Empiece a tiempo y termine pronto. Si programó la reunión para las 10 a.m., empiece alas 10 a.m. "Esto muestra respeto al tiempo de las personas y refleja también algo mucho más grande", dice Herold. "Si no puede empezar una reunión a tiempo, ¿Porqué podría ser diferente en cualquier cosa que pase en la compañía? Temine la reunión cinco minutos antes. Eso da a la gente tiempo para tomar una taza de café, revisar sus e-mails, usar el baño o hablar con sus colegas antes de su próxima reunión.
Algo Sobre Cameron Herold
Cameron Herold, autor de de "Double Double: How to Double Your Revenue and Profit in 3 Years or Less" (www.DoubleDoubleBook.com), comenzó su primer negocio a la edad de 21 años. Ha sido instrumento clave en la exitosa venta, marca e integración de 500 locales de negocios con tres importantes compañías. Es mejor conocido como la fuerza motora tras el espectacular crecimiento de 1-800-GOT-JUNK?'s, de $2 millones a $106 millones en ingresos, en seis años. Su rango de papeles ejecutivos incluyen planeación de estrategia, la negociación de adquisiciones corporativas, operaciones, gente, ventas, mercadeo, centros de llamadas y relaciones públicas. Herold es el conferencista número uno en EO/MIT Entrepreneurial Masters Program y orador poderoso y efectivo en eventos alrededor del mundo de EO/YPO & Vistage.