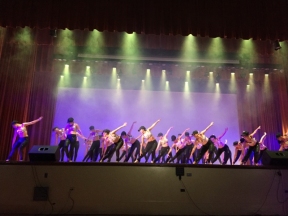 Above: Over 100 Angel Quinceañeras Academy dancers performing at Baila Conmigo show on October 11th. For the third consecutive year, all proceeds from Baila Conmigo go to Scholarships for Hope, a Gift of Hope program in support on Latino students pursuing a higher education.
Gift of Hope Organ & Tissue Donor Network concludes commemoration of Hispanic Heritage Month with its participation at key community initiatives dedicated to highlighting the importance of starting the conversation to saying yes to donation with loved ones. The month-long celebration started with A Story for Hope, a contest aimed at promoting writing and literacy in Spanish, as well as creativity amongst kids in grammar school. This educational platform brings the topic of organ and tissue donation to the forefront for students, teachers and parents to support the power of discussing the meaning of becoming an organ donor. Students from Jose Clemente Orozco Academy participated in the third installment of this essay and drawing contest. This Hispanic Heritage Month also marked the second year in recognition of a Celebration of Hope and Life, an event exclusively in Spanish that honors the legacy of Latino donor families and celebrates their heroic decision to say yes to donation. The event, held on October 4th, also brought together five recipient families, giving them the opportunity to express their gratitude to the donor families that gave them the gift of life.
On Sunday, October 11th the Baila Conmigo event helped Gift of Hope bring Hispanic Heritage Month to a close. A display of over 150 dancers from the Angel Quinceañeras Academy and over 20 original choreographies showcased a wide range of music and dance genres including jazz, hip hop, modern and classical ballet and other popular Latin rhythms. This sold-out event benefited Scholarships for Hope, a Gift of Hope program that helps Latino students achieve their dream of a higher education. It is with the goal of helping reduce the number of people waiting to receive an organ transplant that Gift of Hope participates in these events, and thanks the community for the incomparable support to help educate and inform about the life saving benefits of organ and tissue donation. For more information, visit giftofhope.org/espanol.
| | |
| --- | --- |
| | Left: Angel Quinceañeras Academy dancers and Gift of Hope at the premier of Baila Conmigo in support of Scholarship for Hope, a scholarship program that helps Latino students achieve their dreams of a higher education. From left to right: Jesus Rendon, Julio Castro, Alan Montelongo, Jose Castillo, David Garcia, Angel Novoa; Founder of Angel Quinceañeras Academy, Raiza Mendoza; Manager of Hispanic Affairs for Gift of Hope, Giovanni Palma, Julio Arellano, Jorge Sandoval, Alejandro Benitez and Cesar Cisneros. |