Por Ashmar Mandou
North Lawndale dio la bienvenida al reconstruido Sears, Roebuck & Co. Tower, el martes por la mañana, con el nuevo nombre de Nichols Tower, en un esfuerzo por revitalizar la comunidad y barrios circunvecinos, con la ayuda de ocho organizaciones no lucrativas. Ya sea inspirando a un niño a través de los medios de comunicación digitales o impactando a una familia con servicios de vivienda, Nichols Tower representa a Chicago porque representa la esperanza", dijo el Alcalde Emanuel. "Esta torre es la culminación de años de colaboración y planeamiento y ahora servirá como recurso clave para incontables residentes de la Ciudad de Chicago".
Cuando se construyó la estructura, de 250 pies de altura, en 1906, fue el edificio más alto de Chicago fuera del centro de la ciudad,. El edificio originalmente sirvió como entrada formal al Edificio Comercial de nueve pisos de Sears, que contenía tres millones de pies cuadrados de espacio de fabricación y distribución. Vacío desde 1987, el edificio será sede de varias organizaciones designadas a equipar a las familias con las destrezas que necesitan para seguir adelante.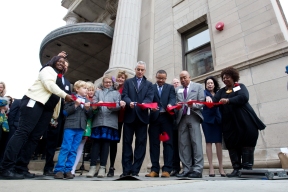 "Estamos entusiasmados de que un grupo de organizaciones tan diverso y talentoso se comprometa con Nichols Tower y la visión de Homan Square", dijo Kristin Dean, presidente de Foundation for Homan Square. "Nuestra meta, desde el primer día, ha sido transformar esta propiedad en un activo para los residentes de North Lawndale y las comunidades circunvecinas. Terminar Nichols Tower es la piedra angular del esfuerzo".
Los inquilinos de los 35,000 pies cuadrados incluyen La Escuela del Instituto de Arte de Chicago, Free Spirit Media, UCAN, North Lawndale Employment Network, Turning the Page, Lawndale Business Renaissance Association, Neighborhood Housing Services of Chicago, Area Común/Salón de Conferencias para los inquilinos y The Foundation for Homan Square. Nichols Tower brindará una multitud de servicios que van desde cursos de arte, preparación para el trabajo, entrenamiento de liderazgo y tutoría a educación al propietario y mucho más.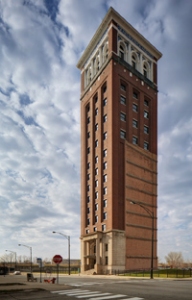 "Nichols Tower incrementará el impacto colectivo de nuestros programas individuales, reuniéndonos bajo el mismo techo, donde la colaboración pueda florecer", dijo Brenda Palms Barber, directora ejecutiva de North Lawndale Employment Network. "Estamos persiguiendo una agenda de equidad, donde todo el mundo tenga la habilidad y el derecho de obtener un ingreso y cuidar a sus familias, experimentar las artes, crecer como individuos y sentir esperanza sobre el futuro. Nichols Tower ofrecerá esperanza y será un faro de oportunidades en el Sector Oeste de Chicago".
La Torre lleva el nombre de los benefactores John D. y Alexandra C. Nichols. El proyecto de revitalización, de $15 millones, de Nichols Tower, tardó cinco años en completarse. Puede visitar la Torre en el 900 S. Homan Avenue.