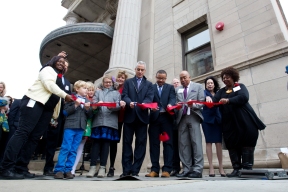 By: Ashmar Mandou
North Lawndale welcomed the redeveloped Sears, Roebuck & Co. Tower on Tuesday morning, renamed the Nichols Tower in an effort to revitalize the community and surrounding neighborhoods with the help of eight not-for-profit organizations. "Whether it is inspiring a child through digital media or impacting a family through hosing services, Nichols Tower represents Chicago because it represents hope," said Mayor Emanuel. "This tower is the culmination of years of collaboration and planning and now it will serve as a key resource for countless people throughout the City of Chicago."
The 250 feet high structure, built in 1906, was the tallest building in Chicago outside of downtown at the time of construction. The building originally served as a formal entrance to the Sears' nine-story Merchandise Building, which contained three million square feet of manufacturing and distribution space. Vacant since 1987, the Tower will be home to several organizations designed to equip families with the skills to move ahead.
"We are thrilled that such a diverse and talented group of organizations are committing to the Nichols Tower and to the vision of Homan Square," said Kristin Dean, Foundation for Homan Square president. "Our goal from day one has been to transform this property into an asset for all residents from North Lawndale and the surrounding communities. Completing the Nichols Tower is the capstone of that effort."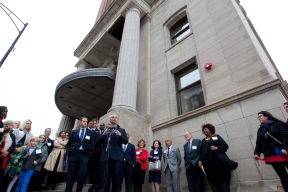 Tenants in the 35,000-square-foot hub include The School of the Art Institute of Chicago, Free Spirit Media, UCAN, North Lawndale Employment Network, Turning the Page, Lawndale Business Renaissance Association, Neighborhood Housing Services of Chicago, Common Area/Conference Room for tenants, and The Foundation for Homan Square. Nichols Tower will provide an array of services ranging from art courses, job readiness, leadership training and mentoring, homeowner education, and much more.
"The Nichols Tower will increase the collective impact of our individual programs by bringing us together under one roof where collaboration can flourish," said Brenda Palms Barber, executive director of the North Lawndale Employment Network. "We are pursuing an agenda of equity, where all people have the ability and right to earn an income and care for their families, experience the arts, grow as individuals, and feel hopeful about the future. The Nichols Tower will offer hope and be a beacon of opportunity on the West Side of Chicago."
The Tower was renamed after benefactors John D. and Alexandra C. Nichols. The $15 million revitalization project of Nichols Tower took over five years to complete. You can visit the Tower at 900 S. Homan Avenue.
Photo credit- Brooke Collins/City of Chicago
Exterior/Interior shots courtesy of Darris Lee Harris