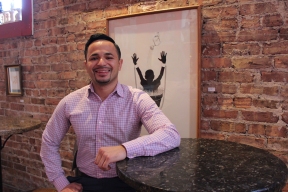 Por: Ashmar Mandou
El activismo comunitario es un concepto arraigado en la mente de Acevedo desde joven. "Mi abuela era una de las primeras en Pilsen en crear un concilio escolar local para otros padres y mi padre [El Representante Estatal Edward Acevedo] ha servido a su comunidad por varios años. Por lo que ser activista para mi comunidad es algo natural en mi. Tengo este sentido innato de responsabilidad para representar a la gente del Distrito 2, a quienes aprecio mucho", dijo Acevedo, quien anunció sus esfuerzos de correr para Representante Estatal del Distrito 2. Pero, ¿Quién es Alex Acevedo?" Le tenemos el resumen.
Residencia: Acevedo creció y vive actualmente en el barrio de Pilsen
Edad: 30 años
Educación: Universidad de Illinois en Chicago; especialidad en Kinesiología. Obtuvo un B.S. en Enfermería en Chamberlain College of Nursing
Trabajo: Trabajó en el piso pediátrico del Hospital St. Anthony, en el barrio de West Lawn. Pasó cuatro años en el piso quirúrgico médico y de transplantes del Hospital Children's Memorial, actualmente conocido como Anne and Robert H. Lurie Children's Hospital.
Pasión por la Enfermería: "Siempre he pensado que el haberme convertido en cuidador de mi abuelo a tan temprana edad me mantuvo con los pies en la tierra. Muchas veces quería salir y jugar pero tenía la responsabilidad de alimentarlo, vestirlo, asegurarme que lo bañaban y que tenía ropa limpia. Lo quería y lo veneraba. Hasta esta fecha, me siento agradecido de haber podido pasar ese tiempo con él".
Inspiración Paternal: "Admiro el que mi padre siga luchando por sus constituyentes sin importar lo que tenga que hacer. Quiere servir y retribuir. Después de todo, esa es la razón por la que se va a Springfield, a cambiar las cosas para mejorar. Es la razón por la que quiero ocupar la oficina".
Promesa: "Como Representante Estatal del 2º Distrito, me comprometo a ser un defensor de la gente. Está orgulloso del trabajo histórico que su padre ha realizado por la gente del 2º Distrito".
Representante Estatal: "La razón por la que estoy corriendo para el puesto de Representante Estatal del 2º Distrito es porque se que la lucha no está en el hospital – está en Springfield. Veo la disparidad en cuidado de salud y prometo luchar por la igualdad en ese campo. Como enfermero, mi voz fue silenciada, pero ahora se más y estoy listo para el reto. Quiero ir a Springfield para impactar positivamente un cambio que afecte la vida real, como mejores servicios de salud".
Para más información sobre Alex Acevedo, visitar www.acevedoforall.com.