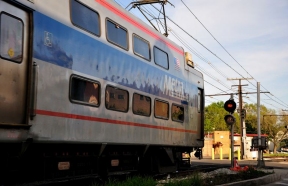 Starting this week, each fare-paying adult can bring up to three kids 11 and under for free on every Metra train through Jan. 3, 2016. Families traveling on a Saturday or Sunday can purchase an $8 Weekend Pass and travel with their kids for free all weekend long. Metra offers the following tips for families traveling with children:
Purchase your ticket in advance: Download the Ventra App and purchase your ticket with your smartphone from home. Tickets can also be purchased at the station (cash or credit) or on the train (cash only) if an agent is not on duty.
Pick the best family travel times: Travel in the off-peak hours, outside the traditional morning and evening rush periods. This is when more seating is available, making it easier to find multiple seats together for your family and your belongings.
Skip the Quiet Car: If you do find yourself traveling during rush hours, Metra recommends that you avoid sitting in the designated Quiet Cars. Talking and cell phone use are discouraged on Quiet Cars so it's probably not the best place to enjoy a train trip with your children. Quiet Cars are clearly marked as such on the exterior and interior so they should be easy to spot.
If you need help, call us: Call our customer service number 312.322.6777 weekdays from 8 a.m. to 5 p.m. with any questions about train schedules and service.
To view schedules, please visit www.metrarail.com.