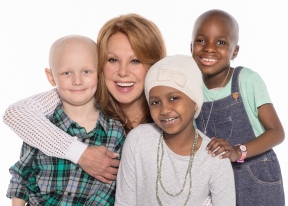 By: Ashmar Mandou
Each year, St. Jude's helps thousands of families through their annual Thanks & Giving campaign, which supports the organization's mission to saving children battling cancer and other fatal diseases. Recently, Lawndale Bilingual Newspaper interviewed Senior Director of Multicultural Marketing and Business Development at St. Jude Evelyn Medero who spoke more about the Thanks & Giving campaign.
Lawndale Bilingual Newspaper: Talk to me about the Thanks & Giving campaign! What is the mission of the campaign?
Evelyn Medero: Overall, the St. Jude Thanks and Giving® campaign is a way for people across the country to contribute to our lifesaving mission. It kicked off during Thanksgiving week and runs through the end of December, and it's a union of celebrities, media, retail and corporate partners that ask consumers to donate while they shop and support the lifesaving mission of St. Jude. This year, we received celebrity support from Luis Fonsi, Sofia Vergara, Karla Martinez, & Cristian de La Fuente. Because of campaigns like these and our generous partners like Domino's, no family every pays for treatment, travel, housing or food when they come to St. Jude, because all a family should worry about is helping their child live. In fact, Domino's has committed to raise $35 million over the next eight years – having already raised over $25 million for St. Jude since becoming a national partner in 2004. The commitment helped to fund the recently opened Domino's Event Center at St. Jude which is a flexible event space on the hospital campus that can be used for patient and family activities, fundraising and entertainment.
St. Jude's helps hundreds of families across the country who are affected by pediatric cancer. Can you talk to me about how St. Jude's has helped the Hispanic families battling pediatric cancer?
St. Jude treats children from all 50 states and from around the world. We have 35 regional fundraising offices, including one in Puerto Rico. St. Jude's groundbreaking research and treatment has had an impact on the care of Hispanic children, uncovering new insight into why Hispanics are at higher risk for some childhood cancer. St. Jude also has an international program with many partner sites in Latin America to share our knowledge, technology and organizational skills. Currently we have 24 official partner sites in 17 countries around the world. These countries are Brazil, Chile, China, Costa Rica, Dominican Republic, Ecuador, El Salvador, Guatemala, Haiti, Honduras, Jordan, Lebanon, Mexico, Morocco, Nicaragua, the Philippines and Venezuela. In Brazil, St. Jude efforts have helped increase the survival rate for children with acute lymphoblastic leukemia from 32 percent in the 1980s to 63 percent today. In El Salvador, that rate has risen from 5 percent in 1993 to 48 percent today.
What can our readers do to help the Thanks & Giving campaign?
From now until January 3rd, consumers can donate through numerous channels, including through their orders, either online, over the phone or in the stores. Also, they can donate by purchasing the St. Jude Meal Deal – a bundle that includes two medium one-topping pizzas, an order of Marbled Cookie Brownie, a two-liter of Coca-Cola® and a $1 donation to St. Jude – for $19.99. This year, Domino's will match dollar-for-dollar all customer contributions up to a total of $250,000 – making each dollar raised from customers even more impactful. Readers can also donate directly to St. Jude through visiting stjude.org or by calling 1-800-4STJUDE. They can also shop with participating businesses, and donate at the register.