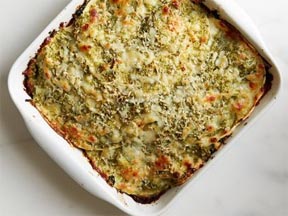 Ingredients
1 medium yellow squash, sliced into 1/4-inch-thick rounds
Kosher salt
1 cup shredded part-skim mozzarella
1/4 cup grated Parmesan
Cooking spray
Twelve 6-inch corn tortillas
4 scallions, sliced
1 cup salsa verde
1 large ripe tomato, sliced 1/4 inch thick
One thawed 9-ounce package frozen chopped spinach, squeezed dry.
Directions
Preheat the oven to 425 degrees F. Arrange the squash on a baking sheet and sprinkle with 1/8 teaspoon salt. Bake until just soft, about 10 minutes, flipping the squash once about halfway through. Combine the mozzarella, Parmesan and 1/2 teaspoon salt in a small bowl.
Spray an 8-inch square baking dish with cooking spray. Arrange 4 of the tortillas in the bottom of the dish so they overlap and top with the squash and half the scallions. Drizzle 1/3 cup of the salsa verde over the vegetables and top with 1/3 of the cheese mixture. Add another 4 overlapping tortillas, top with the sliced tomatoes and spinach, drizzle 1/3 cup of the remaining salsa verde over the vegetables and top with half of the remaining cheese mixture. Finish building the casserole with the remaining 4 tortillas, salsa verde and cheese mixture. Bake, uncovered, until the casserole is golden brown and hot, 20 to 25 minutes. Garnish with the remaining scallions.
From Food Network Kitchens