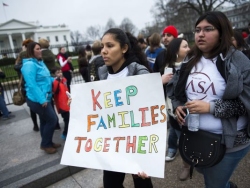 The Illinois Coalition for Immigrant and Refugee Rights (ICIRR) joined Organized Communities Against Deportations (OCAD), the National Immigrant Justice Center (NIJC), and other community leaders this morning to condemn the new campaign of raids launched this past weekend by Immigration and Customs Enforcement (ICE). These raids are targeting Central American children and parents who recently came to the US fleeing violence in their home countries. During the past two years, more than 100,000 children and parents have come to the US from Guatemala, Honduras, and El Salvador — some of the most dangerous countries in the world. Immigration authorities have sent many of these children and parents to family detention centers while others have been released with unclear direction on seeking humanitarian relief. Most of these children and parents have been going through the immigration process without legal counsel, and many never receive adequate notice of court dates or understand the legal proceedings that could determine their fates. ICIRR is urging families and community members who witness raids to call the Family Support Hotline, 1-855-435-7693 (855 HELP-MY-FAMILY). ICIRR reminds immigrants of basic rights they have if immigration enforcement comes to their home: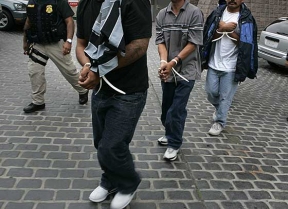 1. No Warrant, No Access. You do NOT have to answer the door. You have the right to ask the agent (through the closed door) if he has a warrant. If the agent says he has a warrant, ask him to slide it under your door. Check if the warrant is signed by a judge or supervisor, has your name on it, and is recent.
2. Remain Silent. You have the right to remain silent! You do not have to answer any questions.
3. DON'T Sign. Do NOT sign any documents. Tell the agents you won't sign anything until you talk with a lawyer.
4. TAKE DOWN Information. If the agents force their way into your home, take down their names and agent numbers and the license plate numbers of their vehicles.
5. If Detained, don't sign any documents without legal counsel. You have the right to make a call. Call a family member or lawyer to tell them where you are. Memorize important phone numbers–you will not have access to your cellphone while in custody.
6. PREPARE an Emergency Plan. Always carry with you your Know Your Rights Card. Carefully choose a responsible adult that can take care of your children and help you during an emergency. Keep all your important documents in a safe and secure place.
7. REPORT IT! Call the Family Support Hotline 855-435-7693 (855 HELP-MY-FAMILY). In order to organize and take effective action, we need the community to report these incidents. Your information will be kept confidential!