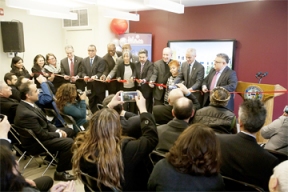 By: Ashmar Mandou
The Resurrection Project (TRP) together with the Chicago Housing Authority (CHA) and Mayor Rahm Emanuel held a ribbon-cutting ceremony on Tuesday, Feb. 9th to unveil Pilsen's newest, state-of-the-art apartment building, Casa Querétaro.
"The Resurrection Project continues its commitment to balanced development by creating affordable and dignified housing for working families," said CEO of TRP Raul Raymundo. "The new construction comes at a time when people are struggling to find housing within their budgets and TRP is proud to be able to offer quality, safe housing people can afford."
Casa Querétaro, 1614 S. Damen Ave., with the help of the City of Chicago and CHA, is a four-story, 45-unit apartment building costing $15 million to develop and provides several amenities, safety, without sacrificing comfort. "This is a great day for Pilsen and for our city," said Mayor Emanuel. "With this new apartment building, we have put vacant city land back into productive use and provided quality affordable housing for families so they can remain in the neighborhood and stay connected to their community." Casa Querétaro will help families in Pilsen and expand affordable options through $4 million in TIF.
Casa Querétaro is the first housing developed jointly with CHA, ensuring that the apartments remain affordable with ample living space, offering two and three bedroom apartments. "We are delighted to partner with TRP," said Eugene Jones Jr., Acting CEO of the CHA. "What we are doing here, today is the future, ensuring that Chicagoans can find the affordable housing they need in the neighborhood they call home."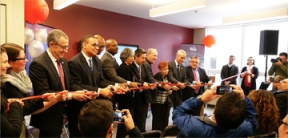 Alderman Danny Solis shared his thoughts on the new apartment building. "Our partnership with TRP is helping to provide affordable housing solutions to families," said Ald. Solis. "To-date TRP is the leading developer in the neighborhood that has provided over 370 units of quality housing in Pilsen to ensure families can afford a dignified place to live."
The development of Casa Querétaro comes years after residents shared their discernment over the criminal activity and vandalism occurring on the abandoned lots, which created a health hazard for area families and children. "Citibank is proud to collaborate in partnerships like Casa Querétaro because together we can strengthen local communities and support the expansion of affordable housing opportunities for families in Chicago," said George Wright, Citi Community Development – Global Consumer Group. Citibank provided $8.5 million as bond financing that was used during the construction of Casa Querétaro. Fifteen united will serve CHA tenants, while the remaining 30 apartments will be offered to families in the neighborhood earning up to 60 percent of the area median income, or $45,600 for a family of four. If you are interested in Casa Querétaro, visit resurrectionproject.org or call 312-666-1323.