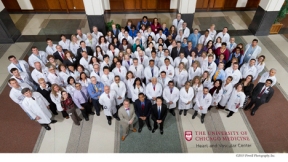 A 66-year-old Gary, Ind., woman has become the first person in the country to receive an innovative mechanical heart pump that is the smallest and lightest of its kind. Physicians at the University of Chicago Medicine implanted a HeartAssist5 left ventricular assist device, a tiny electric pump that boosts the circulation when the heart's left ventricle can no longer function, into Dorothy Duncan on February 16th. The LVAD pump is 2.7 inches long and 1.2 inches wide and weighs 3.2 ounces. The next smallest commonly used LVAD pumps weigh 5.1 and 9.9 ounces.
Duncan is the initial participant in a national clinical trial designed to collect safety and effectiveness data. The trial, which is expected to run through 2016, is being conducted by Houston-based ReliantHeart Inc., maker of the HeartAssist5. Duncan suffers from end-stage heart failure. Prior to surgery, she had a "less than 25-percent chance of surviving the coming year," said her cardiologist, Nir Uriel, MD, director of heart failure, transplant and mechanical circulatory support at the University of Chicago. "With the support of a mechanical assist device, her chance to survive the next year is 90 percent. We hope that this will bridge her successfully to transplantation."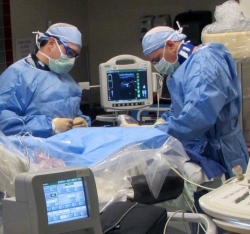 "Before the surgery, I couldn't catch my breath, just walking to the bathroom," Duncan reported three weeks after her surgery. "Now I can get around pretty good. I feel a lot better." Approximately 6 million people in the United States suffer from heart failure, the leading cause of hospitalization in people older than 65, and an estimated 550,000 new cases of heart failure are diagnosed each year. Nearly half of heart failure patients die within five years of diagnosis. With a waiting list for heart transplants of around 3,500 and fewer than 2,500 hearts donated annually, devices that can serve as a bridge between heart failure and transplant are needed.
PHOTO CAPTION:
Left: UChicago Medicine cardiologists Nir Uriel, MD, (right) and Gabriel Sayer, MD, (left) determine Duncan's optimal flow rate and program it into the device in a cardiac catheterization laboratory.