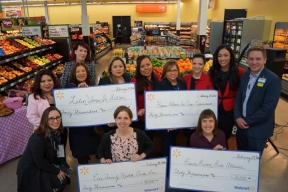 Chicago Hispanic Organizations Receive Grants from Walmart Foundation
The Walmart Foundation celebrated donations to four Hispanic organizations in Chicago today, totaling $140,000. The grants have been made possible through the Foundation's State Giving Program.
Erie Family Health Center, Inc. delivers high-quality, culturally-sensitive, bilingual health care to more than 55,000 medical patients and 9,200 dental patients, and received a $40,000 grant to provide oral health services to pregnant women, children, and diabetic patients in underserved communities.
Mujeres Latinas En Acción, the longest-standing Latina organization in the country, empowers Latinas through services which reflect their values and culture and received a $40,000 grant to support Empresarias del Futuro, an entrepreneurship program designed for Latina survivors of domestic violence to achieve economic self-sufficiency.
Rican Arts Alliance (PRAA), which is dedicated to preserving Puerto Rican culture, received a $30,000 grant to support the Latin Music Project, an innovative music education program, serving low-income youth through intensive after-school classes, student performance, ensembles, youth-oriented workshops and events.
Hispanic Alliance for Career Enhancement (HACE) received a $30,000 grant to support El Futuro, a high school program designed to increase educational attainment, expand career opportunities, and develop the next generations of Latino youth.
"The commitment of the Walmart Foundation to give back to the community is a commendable initiative," said 31st Ward Alderman, Milly Santiago. "With these grants, Walmart recognizes the contribution of community organizations that are making a difference in our neighborhoods and contributes to building a stronger community."
"From health care to heritage to workforce development, these grants help the Hispanic community of Chicago live better," said Eric Galle, Store Manager of the Hermosa Walmart Supercenter. "We are proud to support these organizations because we know that support like this is essential to building strong communities."
Additional information about the program's funding guidelines and application process are available online at www.walmartfoundation.org/stategiving.
Photo Caption : Ald. Milly Santiago joined representatives from Mujeres Latinas En Acción, Puerto Rican Arts Alliance, Hispanic Alliance for Career Enhancement, Erie Family Health Center and Walmart to celebrate the Hispanic Day of Giving