By: Ashmar Mandou
Eight exemplary students vied for the sought-after youth award after months of competing in the Boys & Girls Clubs of Chicago Youth of the Year competition. On Tuesday evening in front of thousands of supporters in Navy Pier's Aon Grand Ballroom, Northside College Prep School student Eve Houser, 17, from the Austin neighborhood was named Youth of the Year. "The Youth of the Year competition really brings out the best and brightest among our Club's youth members," said Bart McCartin, Vice Chair of Boys & Girls Clubs of Chicago's Board of Directors, and Youth of the Year event co-chair. "Their sometimes difficult, but uplifting stories of achievement demonstrate their tenacity and will to overcome any obstacles on the path to success. We are proud of our eight finalists, who with the help of Club staff and mentors, are excelling in school, driving change and improvement in their neighborhoods, and becoming role models for other young people."
Each finalist was judged on completion of an essay and an interview and represented Little Village, Logan Square, Bridgeport, Near West Side, East Garfield Park, Uptown and West Lakeview neighborhoods. The eight finalists, Temaris Dennis, 16, Joanna Burns, 18, Eve Houser, 17, Gerardo Abrego, 18, Marcos Matias, 16, Christian Ortega, 17, Aeriel Burtley, 16, and Bridget Dankwah, 15, were nominated by their local Clubs based on academic achievement, leadership, moral character, life goals, and community service. Houser and runner-up Aeriel Burtley, a junior at the British International School of Chicago in the Fuller Park neighborhood, were chosen by a panel of Chicago civic and business leaders. The competition will continue in April where the statewide winner will participate in Boys & Girls Clubs of America's regional contest. Five regional finalists are then selected for the national competition in Washington, D.C. The five national finalists tour the White House and meet the President. All Chicago Youth of the Year finalists received a new, fully loaded Microsoft Surface Pro laptop from CDW, a cash prize of $1,000 through the Craig Martin Award, established by Renée and Lester Crown in 2015. The winner of the Youth of the Year competition also received two, round-trip tickets from United Airlines, to further their educational goals. Some of the finalists include exemplary students: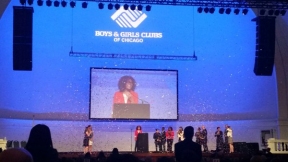 Gerardo Abrego, 18, is a senior and business major at Curie High School, aiming for his fourth year of perfect attendance while maintaining a 3.5 GPA. Gerardo is a 12-year member of the Little Village Boys & Girls Club, where he loves athletics and helping younger members. As captain of Curie's wrestling team, Gerardo possesses a weightlifter's strength (he placed first in the regional competition this year), and a businessman's ambition (he's president of Curie's Business Professionals of America chapter). His love of sport and business was nurtured at the Club, where Gerardo received the support and inspiration to do his best, while the Club also offered him a safe and productive environment away from the street.
Marcos Matias, 16, has been a member of the Logan Square Boys & Girls Club for so long, he can hardly remember his first visit. Marcos, reserved by nature, likes to help people, so he began volunteering to assist the director with various tasks. As he grew older, he took on more responsibility at the Club, which he credits for making him more outgoing, honing his leadership skills, and building lasting relationships with staff and other Club members. He says the Club not only improves the lives of its members, but has made the entire neighborhood stronger and safer. A resident of Portage Park and a sophomore at Rauner College Prep with a GPA over 3.5, Marcos is an avid reader, plays trumpet in the band, participates in track and field and baseball, writes poetry, and enjoys photography.
Christian Ortega, 17, has grown up in Chicago's Little Village neighborhood, where he says the True Value Boys & Girls Club has had a powerful impact on many lives – including his. A very sociable young man, Christian says he was "hooked instantly" the first time he stepped into the Club four years ago. Even though he knew only one Club member, he saw that everyone was "naturally friendly" and that Club staff "genuinely care" about the members. He dove into various programs and moved into a leadership role, helping to plan events, trips and dances. Christian says the skills he has learned at the Club are readily applied to everyday life, motivating him to be more involved at John Spry Community School, where he is a senior, and helping his mother around the house. He was a member of the business club at Spry and now participates in the movie club, a natural tie-in to his goal of becoming an actor.
To learn more, visit www.BGCC.org.