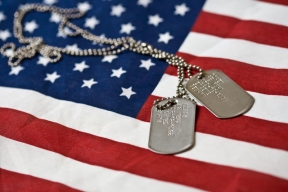 The Illinois Warrior Assistance Program has launched a campaign to help veterans and their families across the state of Illinois, who need help with the emotional, medical or legal challenges resulting from their service. With the "530 by 5/30" campaign, IWAP's goal is to assist 530 veterans between now and Memorial Day, which this year falls on May 30. Qualifying Illinois veterans and their family members and caregivers can call 1-866-554-IWAP (4927) 24 hours a day for confidential assistance from a healthcare professional. IWAP is a confidential resource provided by the Illinois Department of Veterans' Affairs. Through IWAP, eligible veterans can access these services:
Counseling services
Neuropsychological testing for mild traumatic brain injury
Post-traumatic stress self-assessment
Legal and financial consultation
Online financial and legal tools
Help for those who may be facing emotional challenges such as anxiety, stress, depression, coping with daily emotions, addiction and substance abuse.
Illinois veterans and caregivers can also connect with IWAP at www.IllinoisWarrior.com. For eligibility, visit www.IllinoisWarrior.com or call the 24-hour toll-free helpline, 1-866-554-4927.