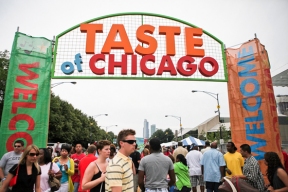 El Departamento de Asuntos Culturales y Eventos Especiales de la Ciudad de Chicago (DCASE) se complace en anunciar la programación del concierto en Petrillo Music Shell para el Taste Anual de Chicago No. 36, del 6 al 10 de julio, en Grant Park. El festival presentará una mezcla diversa de premiadas presentaciones incluyendo a The Roots, Elle King, The Decemberists, Billy Idol y The Isley Brothers con Ronald y Ernie Isley. La admisión al Taste of Chicago es gratis y el festival está abierto de 11 a. m. a 9 p.m. de lunes a viernes y de 10 a.m. a 9 p.m. sábado y domingo. Los boletos para el área de asientos en el Petrillo Music Shell estarán a la venta el viernes, 29 de abril, a las 10 a.m. en la red del Taste, tasteofchicago.us.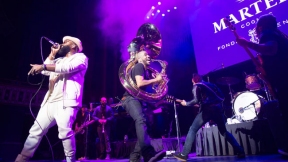 Miércoles, 6 de julio. 5:30 p.m.
The Roots, ganadores del Premio GRAMMY® y uno de los más respetados actos de Hip-Hop en la industria de la música encabezarán la noche de apertura del Taste of Chicago. Recientemente fueron nombrados por Rolling Stone una de las mejores bandas en vivo y actualmente se presentan de lunes a viernes como la banda oficial en The Tonight Show Starring Jimmy Fallon. Presentado por la Lotería de Illinois, el concierto comenzará a las 5:30 p.m. Los boletos en butaca general cuestan $23 en las butacas Premium $50.
Jueves, 7 de julio, 5 p.m.
Elle King nos trae sus hits "America's Sweetheart" y "Ex's & Oh's" de su álbum debut del 2015, AMOR PURO para sus fanáticos de la Concha Pretillo. Al álbum le siguió el aclamado The Elle King EP (2012), que incluyó el sencillo "Playing For Keeps". El sencillo se convirtió en el tema de la canción del VHI "Mob Wives Chicago" y fue escogido para una campaña nacional de "Mad Men". El concierto comenzará a las 5 p.m. Apoyo de los medios provisto por 101WKQX. Boletos en butaca general $15 y en butaca Premium $32.
Domingo, 10 de julio, 4:30 p.m.
Los Hermanos Isley presentando a Ronald y Ernie Isley traen a la audiencia el galardonado R&B & funk, para cerrar un medio siglo con clásicas como su debut de 1959 con "Shout", "Twist and Shout" en 1962. "Who's That Lady" en 1973 e incontables más. Reconocidos por sus compañeros en el medio musical, el legendario grupo ha colaborado con artistas como R Kelly, Lil'Kim, Whitney Houston, Snoop Dogg, Jill Scott, Jimjy Jam y Terry Lewis, entre otros. Las audiencias del Taste bailarán y disfrutarán! El concierto comenzará a las 4:30 p.m. Los boletos en butaca generale cuestan $23 y en butaca Premium, $50. Para la programación completa, visite tasteofchicago.us o llame al 312-744-3316.