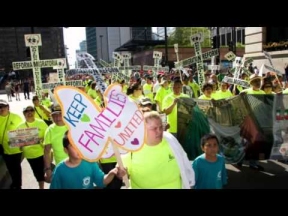 La semana pasada, una alianza multi-racial de más de 80 líderes comunitarios de Illinois lanzó la Iniciativa de Capacitación Comunitaria y Defensa en respuesta a las próximas redadas de Immigration and Customs Enforcement (ICE). Conducido por Lawrence Benito, CEO de la Coalición pro Derechos del Refugiado y el Inmigrante de Illinois (ICIRR), la conferencia de prensa reunió a miembros de la comunidad, a los medios de comunicación y a simpatizantes unidos en solidaridad con todos los inmigrantes que enfrentan la amenaza de la deportación. Voceros de Southwest Organizing Project (SWOP), Communities United, Korean Amaerican Research and Cultural Center (KRCC) y United Congress of Community and Religious Organizations (UCCRO) dieron testimonio y Fred Tsao, asesor senior de regulaciones en ICIRR, expuso un panorama general de la situación que muchos enfrentan en la actualidad. Presentado con el enfoque de "Escudo" y "Espada", la Iniciativa de Capacitación Comunitaria y Defensa se basa en cuatro pilares: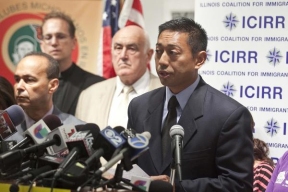 Una Línea de Apoyo Familiar (1-855-HELP-MY-FAMILY) para atender llamadas que enfrenten crisis a causa de la deportación;
Entrenamientos para Conocer Sus Derechos en el estado, para educar a los líderes comunitarios y a los miembros sobre como responder durante las redadas o encuentros con ICE o con otras fuerzas del orden;
Despliegue de más de 500 "Navegadores Comunitarios" con base en 56 organizaciones de Illinois, incluyendo Chicago, Waukegan, Bloomington y varias comunidades inmigrantes, para aconsejarles como protegerse contra inmigración, como en el programa DACA; y
Comprometer al Alcalde Rahm Emanuel y al Concilio de la Ciudad de Chicago para que fortalezcan el lema "Ordenanza Ciudad Amiga" para garantizar que la policía de Chicago no está interactuando con ICE en ninguna forma. Para más información, visite www.icirr.org.