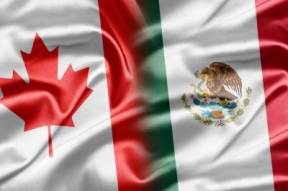 by Daniel Nardini
In another change to its visa rules, the Canadian government will allow people from Mexico to be able to enter Canada without a visa. This change will take place on December 1st. Before, the Canadian government required all Mexicans to obtain visas before they entered Canada—a laborious process that greatly damaged business ties between Canada and Mexico and also damaged tourism. The major change that took place was the election of current Canadian Prime Minister Justin Trudeau who campaigned and is now implementing major changes in Canada. One of these changes has been to repair relations with Mexico.
Under the previous conservative Prime Minister Stephen Harper, Mexicans were required to apply for visas before they set foot in Canada. Needless to say this has proven to be very unpopular in Mexico, and the Mexican government retaliated. Until recently relations between Canada and Mexico were rocky. This all changed with Trudeau. Trudeau sees the importance of business with Mexico, and is doing what he can to allow Mexican business people go to Canada with as little hindrance as possible. There is little doubt that when he meets with Mexican President Enrique Pena Nieto, Trudeau will discuss how to improve relations between the two countries, and how they both can influence the United States.
Both are concerned about the impact that racism and xenophobia are having in the U.S. presidential election, and both are concerned that these dark forces could harm the political, economic and cultural aspects of both their countries.