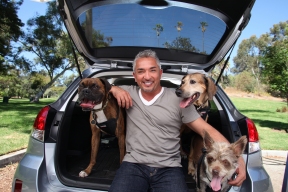 Nat Geo WILD announced that world-famous dog behaviorist Cesar Millan (@cesarmillan) and his son Andre Millan are road-tripping across America in search of dogs and their humans who need help and want to share their story in Nat Geo WILD's new series Cesar and Son. From canine heroes to unsolvable pooch problems to issues affecting local dog communities, no pup is off limits as the Millans hit the road to help you. If you are interested and fit one or more of the categories below:
My community has a problem that affects many dogs. Is there a widespread canine medical problem? An issue with too many strays? A breeder or other business you suspect of inhumane treatment? Let Cesar and Andre know!
A canine hero in my city deserves recognition. Is there a super-dog that saved lives or has a job that regularly helps people? A valiant canine that has overcome incredible odds or has a story that will inspire dog lovers across America? Tell us about it!

My dog and I need help. Do you have a problem dog and need some advice? Submit your story!
Apply to www.cesarandson.com. "I'm thrilled to hit the road with my son for our first joint project," said Cesar. "Andre is a natural, and has been helping me teach humans and rehabilitate dogs for his entire life. With his help, I'm confident that we will be able to find the most inspirational and moving stories that our country has to offer. But I'm not sure what's going to be the bigger challenge — helping the biggest problem dogs in America, or living in such close quarters with my 21-year-old son!"
Photo Credit: National Geographic Channels Tyler Demogenes : Cesar Millan
Photo Credit: National Geographic Channels: Andre Millan