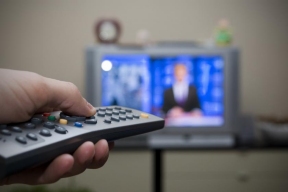 La gente que ve televisión cinco o más horas al día tiene más del doble de riesgo de quienes miran la TV la mitad del tiempo, de morir a causa de un coágulo sanguíneo en el pulmón, sugiere un estudio japonés. Hay más de 200,000 casos de embolismo pulmonar en E.U., cada año, lo que usualmente comienza cuando un coágulo de sangre en la pierna viaja al pulmón, de acuerdo a National Library of Medicine. Puede dañar permanentemente el tejido del pulmón, otros órganos, o causar la muerte, pero mucha gente que lo padece no presenta síntomas. Otros estudios anteriores han conectado los factores comunes de estilo de vida a casos de embolismo pulmonar, pero ninguno ha seguido el problema para ver si hay un vínculo entre el tiempo que una persona ve TV y su riesgo de embolismos, escribe un equipo de estudio en Circulation.
Investigadores calculan que entre la gente que ve menos de dos horas y media de TV, el índice de embolismo pulmonar es de 2.8 por 100,000 personas por año, comparado con un índice de 8.2 muertes por 100,000 personas por año para quienes veían TV cinco o más horas diariamente. "El tiempo pasado viendo TV es una forma bastante segura para medir que tiempo pasa la gente en forma sedentaria, o inactiva", dijo el Dr. Christopher Kabrhel, Profesor Asociado de Medicina de Emergencia en la Escuela de Medicina de Harvard en Boston, quien no fue parte del nuevo estudio. "Si ser sedentario le pone en riesgo de embolismo pulmonar y yo creo que es así, entonces es probable también que lo ponga en peligro de muerte por embolismo pulmonar, como mostró el estudio".
Puesto que los adultos de E.U. ven más TV que los adultos japoneses, los resultados pueden ser aún más importantes para los estadounidenses, dicen los autores en una declaración que acompaña al estudio. "En estos días, con los videos en línea, el término 'binge-watching' para describir múltiples programas de episodios de TV que puede ver sentado, se ha vuelto muy popular", dice el autor principal Dr. Toru Shirakawa, investigador de salud pública de Osaka University Graduate School of Medicine. Los viajeros que viajan largas horas en avión y la gente que ve la TV por largos períodos de tiempo pueden pararse, estirarse, caminar, o tensar y relajar los músculos de sus piernas por cinco minutos para reducir el riesgo de los coágulos sanguíneos, escribió. "Los resultados no parecen ser específicos a un país", dijo Kabrhel a Reuters Health por correo. "Llevar una vida sedentaria es malo para usted, donde quiera que viva".